June 2014. I recently made a five-day trip to Olympic National Park, my favorite park in the country. It's a UNESCO World Heritage site, and with good reason. It's essentially three parks in one, encompassing wilderness beaches along the Pacific Ocean, temperate rainforest, and glaciated mountains all within a half-day's drive. This image was taken in the world-famous Hoh Rainforest near the Hoh River Trail. It's a composite of three photos taken with a Canon 6D using a Canon 24-105mm L zoom lens at 24mm equipped with a polarizing filter to cut glare off of the wet foliage.
May 2014. I recently learned that this image entitled "Griff Creek" received Honorable Mention status in the Scenic Landscape Pro category in the national Wilderness Forever photography contest sponsored by Nature's Best Photography, the Smithsonian, and the Wilderness50 Coalition. Below is the description that was entered with the image:
A friend and I were exploring the Elwha River corridor in late June when we came upon Griff Creek and its surrounding temperate rainforest. The scene stopped us in dead in our tracks. I had never seen the rainforest look so luxuriant. It was late June and a light rain was falling, which saturated the beautiful green foliage. We worked the scene for over two hours trying to capture the essence of its beauty. After making many solid images, I finally discovered this composition, which demanded a panoramic format. I made four identical exposures from a level tripod, overlapping each by about fifty percent, and later stitched them together in Photoshop. While each image could stand on its own, a synergy occurred when I combined all four, giving an overall effect greater than the sum of its parts. It is very important that we protect these rainforests and their incredible biodiversity so that future generations can be refreshed by their amazing beauty. Canon 5D Mark II; Canon 24-105 f/4L at 24mm; B+W polarizing filter; 5 sec at f/16; ISO 100; Induro C213 tripod; Induro DM23 ball head; four identical exposures stitched together using Photoshop CS5.
---
---
March 2014. I recently received the great news that my image entitled "Milky Way over Second Beach" was selected as the winner in the professional division of the Most Inspirational Moment category in the national Wilderness Forever photography contest sponsored by Nature's Best Photography and the Wilderness 50 Coalition. The image will appear in an exhibit opening September 3, 2014 at the Smithsonian's National Museum of Natural History in Washington, DC celebrating the 50-year anniversary of the Wilderness Act, signed in 1964 by President Lyndon Johnson. The image will also be published in the summer 2014 edition of Nature's Best Photography. Canon 5D Mark II; Nikon 14-24mm lens at 16mm; sky 30 sec, sand 2 min. at ƒ/2.8; ISO 3200.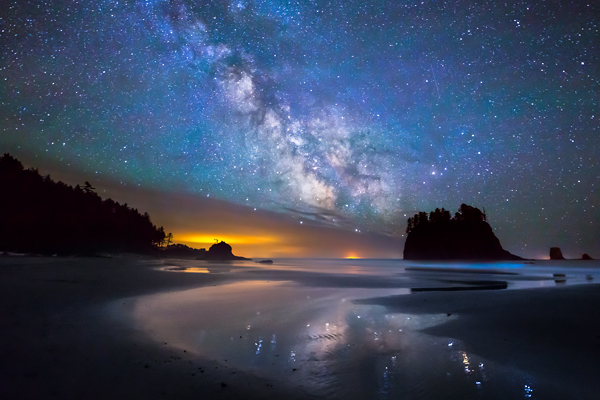 ---
August 2013. Just returned from leading a retreat with Mark Bowie in the Fulton Chain of Lakes region of the Adirondacks. We stayed at the Woods Inn in Inlet, NY and were treated to gourmet meals every evening. The retreat format gave us the freedom to chase the light at opportune times and then return to the inn to process and print our favorite images. New friends were made and wonderful experiences were shared. This image of the setting moon at Moss Lake was taken close to midnight and represents a classic Adirondack scene. It was one of the most beautiful evenings I've ever experienced. Canon 6D; Nikon 14-24mm lens at 16mm; 30 sec at ƒ/11; ISO 3200.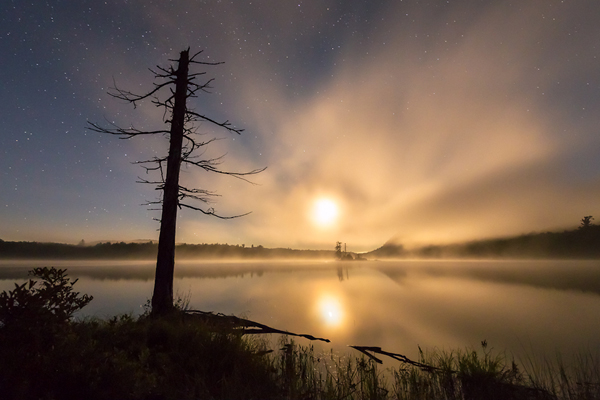 ---
July 2013. Spent a night in the Adirondacks shooting a time-lapse sequence with Mark Bowie at East Pine Pond north of Tupper Lake. Used a second camera to shoot some stills as the full moon was setting shortly after 4 am. The swirling fog backlit by the moon was hauntingly beautiful. It made me glad that I had not napped while capturing the time-lapse. Canon 5D Mark II; Canon 24-105mm L lens at 24mm; 30 sec at ƒ/14; ISO 3200; high ISO noise reduction.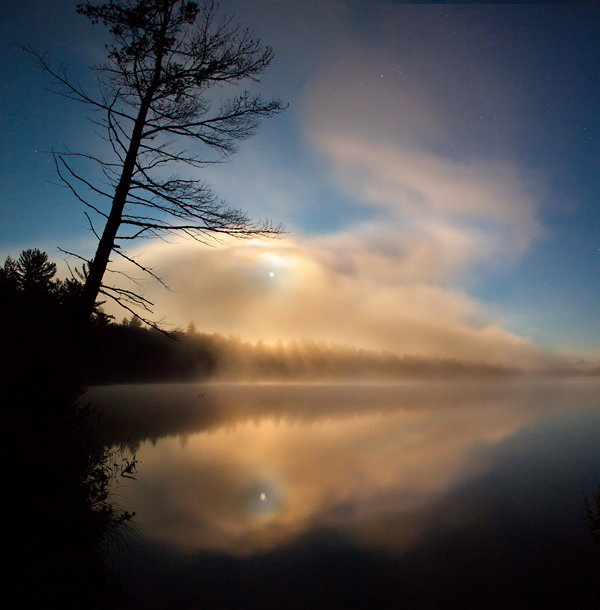 ---
June 2013. Had a great few days leading a workshop with Mark Bowie at Ricketts Glen State Park in northcentral Pennsylvania. This is the premiere waterfall location in the northeast, with 23 named waterfalls and countless cascades. Made some new friends among the participants and a great time was had by all. Here is an unnamed falls just off the Ganoga Glen trail. Canon 5D Mark II; Canon 24-105mm L lens at 24mm; 0.3 sec at ƒ/11; ISO 200; polarizing filter; Induro C213 tripod; Induro DM23 ballhead.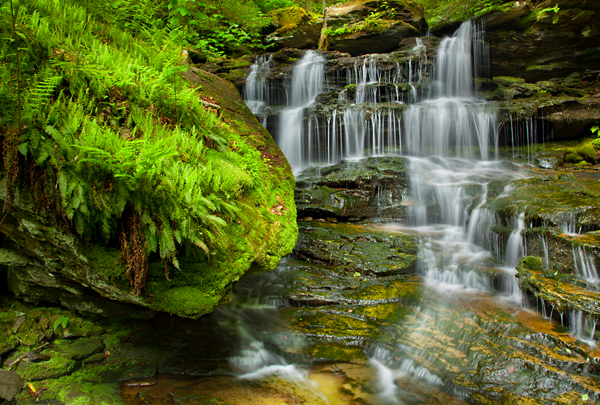 ---
April 2013. I was recently informed that I won first place in the Wild Lands category in the Defenders of Wildlife 4th annual photo contest. The image is entitled, "Milky Way over Second Beach." It was shot in June of 2012 in Olympic National Park, Washington. The technical data appears below. Thanks to all of you who voted for me. I could not have won without your support.
Canon 5D Mark II; Nikon 14-24mm ƒ/2.8 at 14mm; 30 sec at ƒ/2.8; ISO 3200; Induro C213 tripod; Induro DM23 ballhead.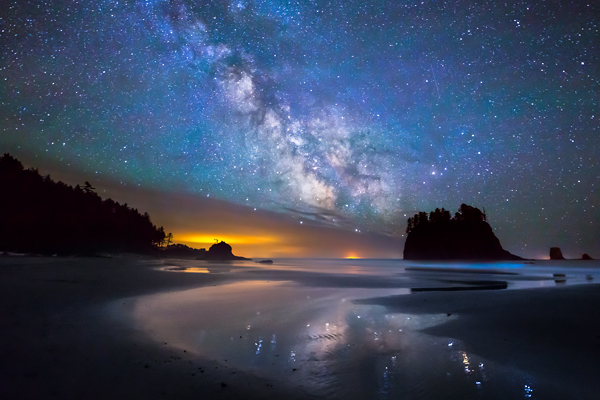 ---
December 2011. Recently, I was very fortunate to have won one of four first place prizes in the "Share the View" International Photography Contest sponsored by the Audubon Society of Greater Denver. The image is entitled, "Sunset over Bandon Beach." The image appears below. It was taken with a Canon 40D using a Canon 10-22mm lens at 10mm. To learn more about how the image was made and optimized the computer, click on Stories Behind the Shots above.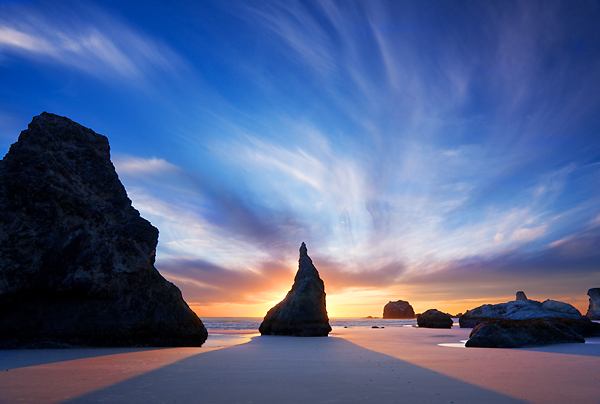 ---
October 2010. I recently found out that I was very fortunate to have one of my images chosen as Highly Honored in the 2010 Nature's Best Photography Windland Smith Rice International Awards competition. The image of Queen Anne's Lace silhouetted against a full moon appears below. It will be featured in the 2010 Fall/Winter issue of Nature's Best magazine along with all of the other winners. Here is the caption description that will appear with the image: "My goal was to photograph the full moon rising over a pond at a nearby nature center. While I was returning to my car, I noticed Queen Anne's lace growing along the trail. It occurred to me that the round shape of the plant might fit perfectly into the disk of the full moon. I set up my equipment, being careful to keep my camera back parallel to the plane of the flower. I made the image when the flower was centered and I could balance the exposure between the moon and the sky."
Canon 5D Mark II; 70-200mm ƒ/4L at 200mm; 1.4x teleconverter; 0.5 sec at ƒ/5.6; ISO 100; Induro C213 tripod; Induro DM23 ballhead.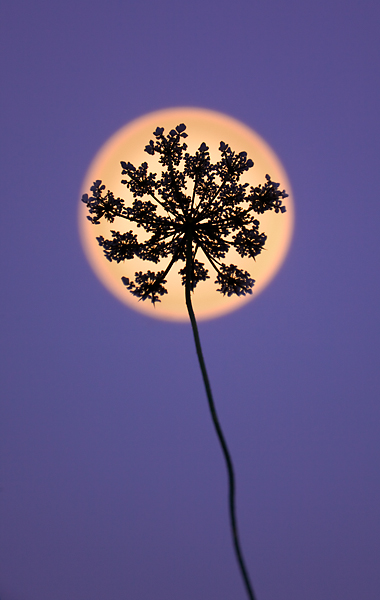 ---
August 2010. I recently spent the weekend of August 27-29 in Lake Placid, NY as an instructor at the "Adirondack Photography Weekend." It was sponsored by the Adirondack Photography Institute and Adirondack Life magazine. We stayed at the Northwoods Inn, where we had excellent meals and lively indoor sessions ranging from how to make panoramic photographs to nighttime shooting to making submissions to Adirondack Life magazine. In addition, we took the 15 participants on early morning and late afternoon field trips to beautiful locations near Lake Placid. Below is an image of the MacKenzie Mountain Range I made at sunrise at a viewpoint north of Saranac Lake. A great time was had by all. What a way to spend a weekend!